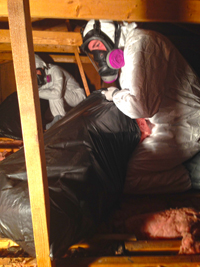 What services do you offer?
We start by removing all of the raccoons that have been living in your attic.  After the critters are removed and relocated we will seal off the entry point for the raccoons.  The next step is to remove the contaminated insulation and waste that has been left behind in the attic by the nuisance animals.  This is done by use of a hose/bag system and its performed by experienced technicians in proper hazmat gear.  We bag the harmful attic insulation and waste that is left behind and dispose of it off of the property.  After the clean-up has been performed, we will treat the area with an anti-microbial treatment killing any disease and insects left behind.  The final two steps are sealing all of the air gaps in the attic and then adding new blown-in Owens Corning Pink Fiberglass insulation at an R value of 49 into the attic to make sure the home is up to the proper codes for the state of Wisconsin.  We deal with the whole problem from top to bottom and don't sub contract out our services to other companies.  Advanced Wildlife Control technicians are there with you ever step of the way!
WHY CHOOSE US?
We have 30+ years of experience handling wild animals and we know specifically what to look for when we are cleaning out feces inside of your attic.  We also sanitize the area after the insulation is removed to insure that insects such as bat bugs, ticks, and fleas are killed upon removal of the insulation.   In some cases your insurance company will pay for our raccoon and bat removal services as well as your attic insulation removal and insulation re-install.  Our technicians have the experience in dealing with representatives from all insurance companies and they can help guide you through this confusing process!
Will there be a huge mess in my home after the removal?
Our technicians will do everything in their power to make certain that your house is as clean as it was when we enter it.  We use tarps to catch any debris that falls from the attic.  We also tape off any registers that are close to the attic scuttle.  We pride ourselves on our work performance and would love to hear feedback on our insulation removal services!
What areas of the state do you provide attic insulation clean-up services?
Advanced Wildlife Control will service all cities and towns located in Milwaukee, Ozaukee, Waukesha and Washington counties for our attic services.  In some cases we may travel further than these counties to help out those who are struggling with wildlife conflicts.  Call to see if we can service you 262-242-4390.
Why should we remove the insulation from the attic?
The best way to prevent exposure to the different types of animal diseases is to avoid coming in contact with any material that might be contaminated or that could become airborne and possibly inhaled.  One of the greatest risks is the inhalation exposure to different types of animal feces.  Some types of animal diseases found in humans include Histoplasmosis, Raccoon Roundworm, Eosinophilic Meningitis, and Hantavirus Pulmonary Syndrome. These diseases can all be avoided with proper care and sanitation practices.